Add size and color information and increase sales!
Increasing sales is easy on Wish! The best way to increase sales is to ensure your products have proper size and color information. Products that have correct sizing and color information sell more on the Wish platform.

Why? Customers trust products that have complete information about size and color options. They are much more likely to buy a product when they can select the size and color they prefer prior to purchase.

Also, our system will ignore products that are missing this information. That's right! If your product ignores sizing or color information, we will limit its exposure and it will get fewer sales.

Consider the case study below. The products are very similar. Both have great pictures, tags, and prices. Yet, one is selling much more than the other. 








This product has no sizes uploaded to the listing. This means a buyer can't select a size before they buy! Most buyers will not buy a product if they cannot select their size. Notice how no one has bought this item yet. 

Now, compare the listing above to the one below. These boots do have sizing information. This makes the users more confident in the item and much more likely to purchase. Our system notices this and promotes that item, while the one without information is largely hidden from users.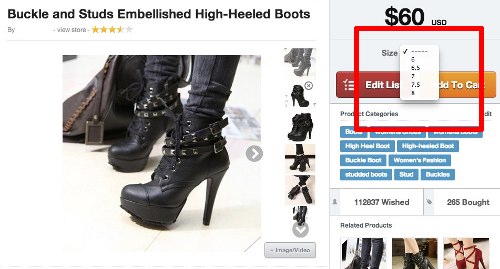 Notice how many people have bought these shoes—265 total. Here, the buyer can choose their size before they click Add to Cart. Our system will always favor this product over the other.
Updating your products' sizing and color information will get you sales!
One of our merchants uploaded a ton of great products similar to the shoes we've shown above. But none of these products had the size or color variations uploaded! At the end of September, they added their variations to their products. Look at how their daily purchases increased in just a week:




Now this merchant is in our top 10 best performing merchants in number of transactions. Why? Because they made it easier for our users to buy their products!
I'm convinced, but how do I add sizing and color info?
There are two things you can do:

1. Ensure you always add products with sizing info (when its needed). Please click the link below to learn more on how to do this.
Learn how to include variations when uploading new products

2. Add sizing and or color information to your existing products on Wish. The link below will instruct you on how to do this.
Learn how to update your existing products